Back in early January, I saw a posting that was looking for people to perform at an event to round off their series of activities for mental health awareness week. I looked for what I thought would be the best three poems that would be appropriate for such an event and submitted them, thinking nothing would come of it. After all, there were going to be other artists, musicians, and poets applying to perform. I really have to stop listening to that doubting side of me.
I had never read any of my work in public before. I have submitted my work to online journals and anthologies, and have been accepted. To speak my words in front of a lot of people was something completely new. Panic struck me when I realized what I was going to have to do.
My timidity is exponential in relation to the number of people in my vicinity. In other words, the more people are around the shyer I become. So, panic is a normal reaction when I know I am going to be speaking in front of a group of strangers.
I knew I only had 5 minutes to be on stage. Should I read all three? Timing them proved that would not be possible. Should I read the two short poems I submitted? That would take at most two minutes. Or should I read the long poem? That poem, depending on how I read it out loud, is anywhere from four to five and half minutes. Should I read something else? Should I even go through with it? If you read this paragraph as fast as you can without taking a breath at the end of any of the sentences, you might get a glimpse of the panic that ensued inside me.
February 1, 2019 I headed down to the Mental Health Coffee House. It is a cute little place inside of Montreal Arts Interculturels, which houses a nice art gallery. I will have to go back just to visit the gallery. There were a few snacks there and lots of water.
Bit by bit people came in and sat down. The musicians and poets were all young. Some were more comfortable than others going up to perform. At least, the comfortable ones might have just looked the part; I have no idea what was going on inside them. I heard so many wondrous singers. Their music had words that held real meaning. Their melodies were rich and calming. The poets read with strong feelings and spoke truths that most people dare not to admit in pubic. Complete honesty.
Another nice thing to see was the audience. They were warm and receptive to the performers. The atmosphere was conducive to calming all people within the walls. Mind you, it also helped that two of my friends were able to make it to the event, too.
When I went up to read, I was still nervous, but I wasn't panicked. At least, not at the same level I had been in all week. The mistake I made was not to ask for the microphone stand. Sure I had no instrument, but it is really hard to turn pages with a microphone in hand! I don't know why I didn't ask for it; the stand was just standing there on the side. In any case, I glanced at my two friends from time to time during my reading. That helped to keep the nerves away. One of them snapped pictures of me, although I somehow missed seeing her do that. I didn't miss seeing my other friend pick up a copy of the poem I was reading and read along quietly.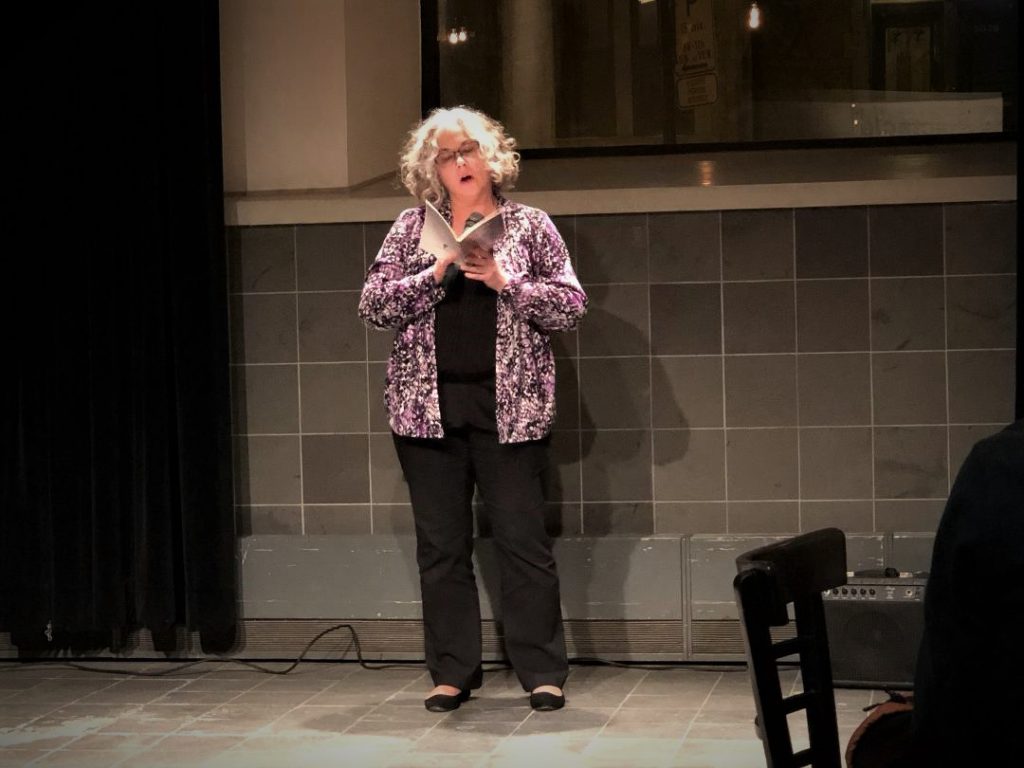 What poem did I decide to read? Well, I decided to read Upstairs, which was originally published on the online literary journal Soft Cartel. It is based on a recurring nightmare. I thought by writing it out, it might make it go away once and for all. Originally, I tried to write the recurring nightmare as a spooking or horror flash fiction since I always woke up winded from it. The more I looked at it, the more I revised it, the more I realized it was not flash fiction. It was a poem. Granted, it is a rather long poem, although not in the traditional sense of a long poem. A real long poem is usually between 3600 and 7200 words. Upstairs is a measly 362 words.
Do I want to expose my words to more people by letting them listen to them? Do I want to stand up in front of people and read some more? Absolutely! It was a wonderful feeling to know that I can share a part of myself and be appreciated by many different people.